Vendor: Riley's Tropical Food
Herbal Choice Strong Lemon With Ginger Tea 48g - 24 Tea Bags
ZESTY AND INVITING
Now you can enjoy our zesty and inviting Lemon and Ginger Tea either hot or as an ​iced tea​. Perfect for those hearty lunches.
Lemon and ginger tea have been a folk remedy for centuries and for good reason. The combination of lemon and ginger ​quickly relieves nausea​ and indigestion which is especially helpful when you are pregnant or undergoing chemotherapy.
With ginger antioxidant properties and lemon's ​high concentration of vitamin C​ this invigorating tea will boost your immune system ​and taste great while doing it.
THE BEST TEA FOR HAIR AND SKIN
Lemon and Ginger Tea is a natural and simple way to achieve healthy, younger-looking skin while promoting hair growth​. With its powerful combination of antioxidants and vitamins along with antibacterial and antiseptic properties, this tea stimulates blood circulation and fights off skin infection.
Another great all around tasty and ​nutritious tea.​
Specifications:
Botanical name:​ Zingiber officinale

Quantity: ​24 herbal tea bags

Total tea box content:​ 48 g

Ingredients: ​Ginger, lemongrass and lemon peel
OUR PROMISE:

Caffeine free
No preservatives
No artificial flavouring
No GMOs
At Crown Herbal Products, we ethically source all of our tea products as we only want to serve you the best possible products and experience. We have spent years of research to produce the highest quality teas around. Our success depends on your complete satisfaction.
View full details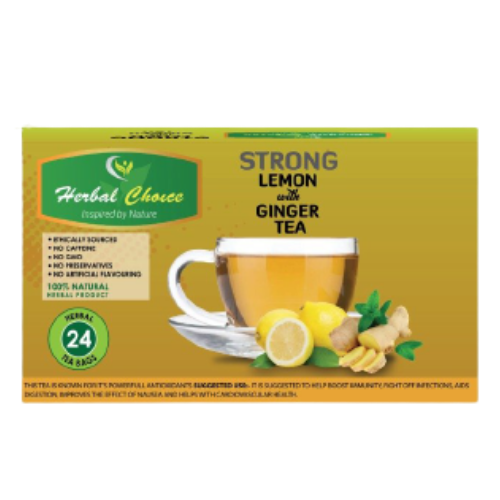 Herbal Choice Strong Lemon With Ginger Tea 48g - 24 Tea Bags