Double Blue Bows Buns
Cardi's blue double bows were one of her most iconic looks that trended across social media very quickly. Many Cardi fans (aka bardi gang) recreated the look inspired by Cardi on Youtube and caught the eyes of a range of people from hairdressers to bloggers.
Here are some related products needed to recreate this iconic look:
Queen of Hearts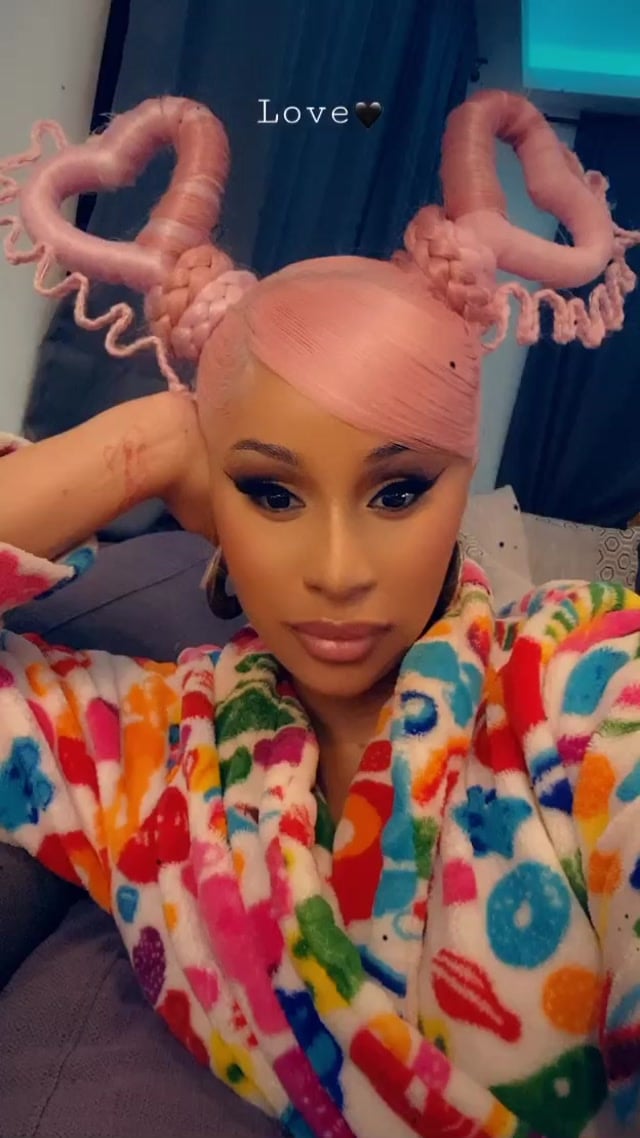 When it comes to hairstyles, Cardi always goes out big. On several occasions she has been referred to as the queen of rap. What do you think? Queen of rap wearing the queen of hearts hairstyle - sounds just about right to us!
Instagram went crazy when Cardi posted her newest valentines themed pink look #trendsetter.
Fulani Braids from 'Please Me' Music Video
Cardi represented the African community by wearing fulani braids in her and Bruno Mars popular song 'Please Me' which got over 391 million views.
Fulani braids originated in West Africa and many approved of Cardi's inclusion of West African culture in her music. 
Cardi's look inspired many Youtubers to recreate the exact same hairstyle once again..
Here are some products you'll need to recreate this trendy look:
Chain Link Ponytail from 'Wap' Music Video
This hairstyle rose completely off the charts when Cardi featured this look in her and Megan Thee Stallion's hit song WAP. Cardi's hairstylist revealed the struggles to perfect the hairstyle for the music video:
 "I wasn't too sure that it was going to work at first, because the ponytail was kind of heavy," Tokyo says. "But it ended up being a success after trial and error. We tried it a few times and tested it out to make sure she could move with it and perform on camera without stuff falling apart."

For those who want to recreate the look at home, Tokyo breaks down the two main steps she took. "I ordered Styrofoam little circles off of Amazon," she says about creating the ponytail. She then "wrapped each ring with hair [extensions], using hot glue guns" and "lots of hair spray" to secure it in place. "And I cut a slit in each link so that way I was able to slide each one together so it would close and lock back in," she says.

Because Cardi wanted bangs but didn't want to cut her own hair, the base of that style was a full lace wig, pulled up into a ponytail. "Then we connected the chain link ponytail to the actual wig once it was installed," Tokyo says, adding, "We had to wrap a lot of elastic around the base of the ponytail to get it to stand up and have that height and stay strong enough for it to sit up without it leaning back, because [it] was really heavy."

"It literally felt like I was a construction worker. I felt like an architect [working on a] building or something," says Tokyo (millennialplasticsurgery.com)
Will you be trying any of these looks on yourself? Which one was your favourite? Let us know in the comment section!
By Praises A
Opinions expressed by Riley's Tropical Food contributors are their own.
Follow us on Instagram! @rileystropicalfood
(Image Sources: newnaturalhairstyles.com, popsugar.co.uk, pinterest.co.uk, dazeddigital.com

)