Vendor: Riley's Hair & Beauty
Creme Of Nature Exotic Shine Colour - Soft Black 3.0
Enriched with the goodness of Argan oil, the Creme Of Nature Exotic Shine Permanent Hair Colour with Argan Oil has a unique micro-sphere technology that ensures vibrant coloured hair while also maintaining the moisture of the scalp.
Key Features:
• Moroccan Argan Oil is rich in natural phenols and Vitamin E, that not only moisturises hair but also deeply enriches the scalp to stimulate the growth of thick, lustrous, and incredibly shiny hair.
• Deeply nourishes and moisturises the hair shaft for smooth, silky, and soft hair.
• It covers 100% greys and seals in moisture while the Moroccan Argan Oil intensely nourishes the hair shaft.
View full details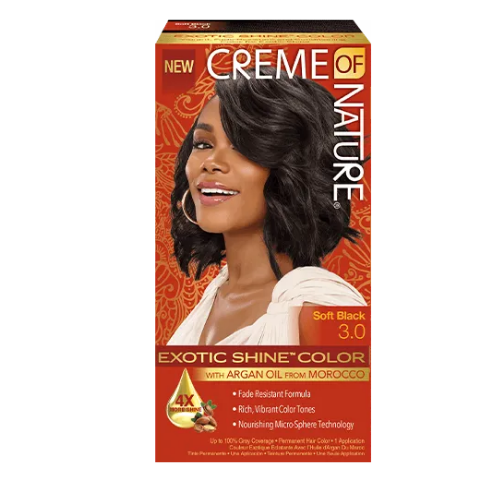 Creme Of Nature Exotic Shine Colour - Soft Black 3.0